Does Living Together Impact Divorce Risk?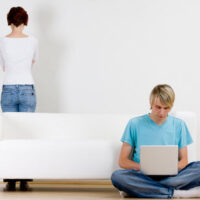 There are plenty of indicators that may increase the chances that a marriage may not last.  With the rise in the number of couples who cohabitate prior to marriage, it's worth taking a look at the success of marriage for them compared to those who choose not to live together prior to tying the knot.
A Look at the Numbers 
Studies suggest that the level of stress is higher among couples living together than among their married counterparts.  It makes sense, then, that about half of all cohabitating couples never do marry.  Of those who do eventually tie the knot, the divorce rate is higher during the first seven years of marriage, but it tapers off to an equivalent rate with those who did not live together prior to marriage.  Here are some noteworthy conclusions:
Couples who live together separate at fivefold the rate of married couples, and reconcile only about 30 percent as often;
Infidelity occurs more often among cohabitating couples than for married couples;
Couples who live together experience higher rates of domestic violence than do married couples;
Married couples experience lower levels of depression and substance abuse than those who live together.
Commitment Theory 
Consider this:  there is a body of research that suggests that when couples choose to marry after living together, they simply slide into the more committed status because it seems like the next logical step in their relationship.  In contrast, couples who actually choose to take the step of marriage after a single life make a more committed decision.  For them, love is the greatest motivating factor, not timing.
Age Outweighs Other Factors 
Other research concludes that the age at which couples commit to one another is the most salient issue weighing on the success of the relationship, whether or not it involves formal I do's. Certainly, a choice to live together or to marry right out of high school is statistically perilous. The question becomes, then, how old is old enough?  Statistically speaking, couples who marry at age 25 or later have a 50 percent better chance of lasting.  Presumably similar rates of relationship survival exist for those who cohabitate.
Know the Difference 
Whether couples choose cohabitation or marriage, they should clearly understand that cohabitation is necessarily more ambiguous than marriage, often resulting in lesser commitment and/or responsibility. For some, it is something of a test drive.
Your Legal Advocate 
At Courtney & Mills, we understand that decisions about cohabitation, marriage, separation, and divorce are highly personal and couples weigh their unique circumstances as they deliberate on such matters.  When these issues require the assistance of an experienced Springfield family attorney, we are positioned to listen and advocate for you.  Contact us today for a confidential consultation.
Resource:
psychologytoday.com/blog/in…/does-cohabitation-lead-more-divorces