Divorce: What You Should and Shouldn't Do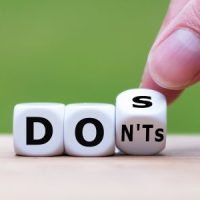 Without question, divorce can be nerve-wracking, but sometimes people make things more difficult than they need to be.  So before you move forward with your divorce, consider the what some experts recommend you should and shouldn't do:
You should contact a local lawyer who will represent your interests: Outcomes are generally better when you and your spouse have your own attorneys to advise you in making the decisions possible.
You shouldn't sign papers that you haven't read and feel comfortable with. There will be negotiations, but that doesn't mean you have to submit to demands that you don't believe are fair and beneficial. Your lawyer should be advocating for you while at the same time giving you an idea of what's realistic in terms of your expectations.
You should learn the requirements for filing: You need to know the residency requirements, and other basics so you don't start off on the wrong foot.
You shouldn't vent on social media: It will likely come back to bite you.
You should consider the different kinds of divorce: A contested is a whole different animal from one that is uncontested. Will this divorce require litigation or will you be able to have it mediated? The eventual costs, stress levels, and outcomes could be significant based on these and other questions.
You shouldn't use this experience to torment your spouse: Intentionally making things difficult could ricochet and harm you, your kids, and others, and it's really not okay anyway.
You should refinance any and all marital debt: Your marital debt will likely be divided, and it's important to ensure all debt is refinanced in the name of the person to whom it is assigned.  You risk the possibility of your spouse defaulting down the road and having creditors come after you.
You shouldn't put kids in the middle of things: Put any negative emotions on the back burner when they're around and make a point to avoid vilifying your ex. Encourage a healthy relationship between the kids and their other parent because you know that's what's best for them, avoiding accusations of parental alienation for yourself, which could result in custody decisions by the court that you won't like.
You should make sensible financial decisions based on your new circumstances: Chances are there will be changes ahead in your lifestyle and living arrangements and habits. Clinging to an unaffordable home or vehicle could result in monthly bills that are beyond your means.
You shouldn't try to hide assets: The law requires you to disclose all financial assets. Don't let a forensic accountant find something that you tried to conceal or camouflage because that will lead to unpleasant legal consequences.
You should think about things in the long term: Look beyond the legal issues in the here and now to issues that will arise down the line. Decisions about retirement, pensions, and the kids' college expenses are critical to consider.
Get Answers to Your Questions
 The experienced Springfield family attorneys at Courtney & Mills are ready to guide you to a fair and satisfying divorce settlement, advising you toward positive decisions throughout the process.  Schedule a confidential consultation in our office today.