Defending Charges Of Perjury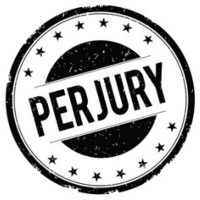 If you've been charged with perjury, you probably know you are in pretty hot water. Perjury is a serious felony charge, and if convicted, you will be facing some stiff penalties.  That's why it is so important for you to have experienced, local legal counsel representing you going forward.
Perjury Defined
Witnesses in a courtroom trial take an oath to be truthful in their testimony.  The same is true when you have a document notarized; it is done so with the promise that the document is accurate.   Perjury occurs when trial witnesses deliberately lie about a fact that is material to the case. Most people are familiar with this definition from the many courtroom movies and tv shows out there.  But in addition to trials, perjury can occur during any testimony before any official during a legal proceeding, including a notary republic. To be clear, perjury may be a violation of both state and federal law. Affidavits and documents submitted to a court are accompanied by a signed declaration that the information provided is accurate under penalty of perjury under 28 U. S,. Code 1746.
What makes a matter material to the case?  If the information provided could have a significant impact on the outcome of the matter in question, it is material to the case.  This is true even if the witness may not concur that it is material.
Penalties for Perjury 
There are many circumstances under which perjury may occur. That being said, it's important to note that in the worst-case scenario, offenders could face up to a decade behind bars in addition to significant fines. So how can an accomplished criminal defense attorney fight back against these charges?
Possible Defenses 
A good attorney will examine the evidence against you in order to develop the best possible defense.  Some strategies that might be considered include:
You didn't really intend to lie. You simply misremembered, misunderstood, or misinterpreted events in question. Since perjury specifically refers to the willful misrepresentation of events, it will be the prosecution's duty to prove your state of mind when erroneous statements were made. If you made inaccurate statements because you believed them to be true, you cannot be guilty of perjury.
The facts you provided were not material to the case. Yes, you made misstatements, but it was about superfluous details that really didn't impact the outcome.
If, during a continuous proceeding you choose to recant previous testimony, you cannot be charged with perjury. This is often a good idea when a perjury conviction appears to be imminent.
The Defense You Need 
You deserve a skilled Springfield defense lawyer when it comes to perjury charges.  At Courtney & Mills, that is precisely what you will get.  Schedule a confidential consultation in our office today.
Source:
law.cornell.edu/uscode/text/28/1746