Holiday Lockup Consequences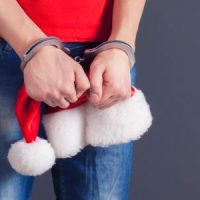 Togetherness and celebration: that's what the holidays mean to many Americans.  But not everyone has the chance to enjoy festive family dinners and Christmas lights.  That's because sometimes allegations of criminal activity eliminate the revelry.
Common Holiday Arrests 
Arrests don't diminish simply because it's the holiday season.  Instead of facing time in jail and other penalties, you can enjoy the happiness of the season by staying out of trouble with the law.  Some of the common, avoidable reasons arrests occur during the holidays include:
DUI's: We all know there are ample prospects for partying between Thanksgiving and New Year's Eve.  But driving under the influence of drugs or alcohol is no way to enhance your holiday joy! If you're stopped with a blood alcohol limit of .08 or higher, you're pretty much assured some time in jail, with other costly penalties to boot.  If you're lucky enough to avoid injuring or killing anyone, it may be a fairly short stay, but additional consequences will last long beyond the night of the arrest. So use your head: drive sober!
Family Violence: Monetary issues, demands from extended family, and maddening crowds everywhere you go can all add up to a real challenge to your frame of mind. The tension can lead to conflicts among family members—but that's the way to ruin the holiday and deal with police!
Airport Contraband: For anyone who travels during the holiday, be sure you don't bring anything that'll get you in trouble with the TSA, and be sure you know the laws in any state you visit. One biggie is marijuana:  TSA doesn't permit marijuana at all—so leave it at home.
Porch Thefts: Online shopping during the holidays is a great timesaver for many families, and porch pirates are ever tempted to filch boxes and crates, even during broad daylight.  But doorbell cameras are pretty prevalent these days, making it easier than ever to get caught. And law enforcement places dummy packages out to bait thieves–so whatever you do, stay off of strangers' porches!
Shoplifting: Anyone wishing to boost their holiday haul without paying for the merchandise, beware! Cameras around these days, helping merchants to keep their stuff safe from sticky fingers. There are also plenty of undercover security personnel and others keeping their eyes open for suspicious activity.  Retail theft is a major problem during the holidays, and, in Missouri it can result in significant jail time.
One Phone Call 
If you're behind bars, make your one phone call worthwhile. Our experienced Springfield criminal defense attorneys at Courtney & Mills will fight for the best possible outcomes for you—including trying to get you home for the holidays and reducing the long-term penalties associated with your arrest.  Contact our office for a confidential consultation today.
Source:
dor.mo.gov/driver-license/revocation-reinstatement/dwi.html