When Missouri Divorce Is Held Up By Pregnancy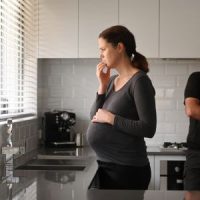 If you are ready for a divorce, chomping at the bit to be free, there is one thing that can hold things up for a period of time.  If you or your spouse is pregnant, your divorce cannot be finalized in the state of Missouri. There's no way around it—you're stuck in wedded bliss until the baby is born.
Why Some Couples Choose Now to Divorce 
Pregnancy is something that many couples strive for and that brings them closer. So it may be difficult to imagine why anyone would contemplate divorce during a pregnancy.  But the circumstances in every relationship differ, and the reasons for choosing this time to split are as varied as the couples themselves.  Just a few of the reasons might include:
The arrival of a new baby makes tolerating ongoing domestic violence untenable.
One partner never wanted a baby and feels tricked into parenthood.
One partner believes someone outside the marriage may be the biological father of the baby.
Financial difficulties are now more extreme than ever, prompting more bickering and unhappiness.
The pregnancy is the result of a rape that has put a strain on the marriage.
Missouri Law
 According to Missouri statute, while anyone can file for divorce at any time, a divorce cannot be finalized in the state if there is a reasonable likelihood that the wife is pregnant.  Although the law doesn't provide any reasoning behind the restriction, some believe it's because the court cannot make custody determinations or order child support prior to a baby's birth.
What Now 
If your marriage is in the toilet and you cannot escape it due to this legal glitch, chat are your options?  Truthfully, you're just going to have to accept your circumstances and make the best of things, acknowledging that some days are going to be a little more difficult because there are loose ends for the time being.  That being said, consider the following:
Lean on trusted friends and family for support.
If domestic violence is an issue, prioritize your safety by taking advantage of local resources.
Join a support group, read a self-help book, or motivate yourself to stay positive by engaging in a fun hobby.
Take care of yourself by eating right, getting lots of rest, exercising regularly, and managing stress.
Make plans on how to manage after the baby is born.
Work with your ex to create a parenting plan that benefits the baby.
Allow yourself to do what's best for you and your baby without feeling guilty for your choices.
Get Things Ready for the Divorce 
Although the divorce can't yet be finalized, the Springfield family attorneys at Courtney & Mills can make sure everything is on track to be finalized at the earliest possible date.  To get the ball rolling, schedule a confidential consultation in our Springfield office today.
Source:
news-leader.com/story/news/local/missouri/2022/07/14/missouri-pregnant-divorce-laws-2022-abortion/10058675002/