Is Divorce the Right Move for You?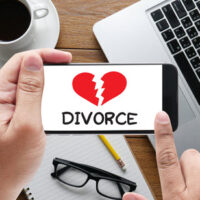 Every marriage has ups and downs.  Sometimes dry spells last seemingly forever, only to be replaced by a long stretch of communication and closeness.  When do you know if your relationship is in real trouble?  According to experts, there are some definite warning signs that it may be time to consider a parting of ways:
Episodes of Abuse: If you are experiencing abuse in your relationship, you need to put some serious thought into your health and safety and that of your children.  You may indeed love your spouse, but you likely haven't the training to effectively address the kinds of emotional issues that lead to verbal, emotional, or physical abuse.  Whether the cruelty is sporadic or continuous, you need to understand that you deserve a better situation.
Infidelity: While it's true that many couples are able to repair the damage associated with cheating, when you're dealing with a chronically unfaithful spouse, or if you simply cannot get past the betrayal, you may need to break it off.
Financial Stress: One of the greatest strains on any couple is dealing with financial difficulties.  While some couples pull tighter together, others cannot overcome the frustration of a spouse whose spending priorities seem frivolous.

You're Holding Things Together by Yourself: Sure, responsibilities for partners in a marriage may ebb and flow depending on the times.  But if you feel that the weight of the relationship is primarily on your shoulders all the time, it could lead to feelings of resentment, and even anger.  If you find that you're unable to communicate your frustrations in order to effect change, you may be headed for divorce.
Lacking Intimacy: Has your marriage has become so humdrum that you feel more like roommates than a married couple?  Has the lack of intimacy led to feelings of worthlessness, isolation, or depression?  When emotional and/or physical closeness is lacking, it can result in extreme dissatisfaction.
Weight gain: As unfair as it may seem, this issue often has a distinctly negative impact on relationships.  If one partner believes the other is just "letting themselves go," it may seem impossible to find a way to work together to improve marital unhappiness.
Non-Stop Bickering: When you can't see eye-to-eye about anything, perhaps it's best to realize that you're not with the right person.
You've Grown Apart: Couples who may have spent decades together sometimes find that they have nothing in common once they become empty nesters.
Advocating for You 
Whatever the circumstances, if you are considering divorce it behooves you to have dedicated, knowledgeable legal representation.  At Courtney & Mills, you can count on exactly that.  Contact our Springfield divorce attorneys to schedule a confidential consultation today.