When Your Marriage With An Addict Becomes Untenable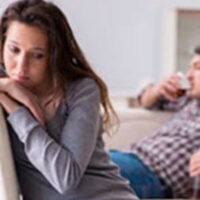 Let's say you've been married for a while, and things have really changed from those early years.  Instead of a loving connection, you find that your spouse's addiction issues have completely demolished any sense of camaraderie and teamwork you once had. You've stood by, been a cheerleader, and enforcement officer, and a rock during the tough times, all to no avail.  If you've now realized that you have no choice but to divorce and start a new life on your own, an experienced local divorce attorney can help to make it happen.
The Destruction of Addiction 
Without question, the consequences of addiction reach far beyond the addict.  Certainly, watching your loved one succumb to the self-destruction so common to addiction has put you through the wringer.  Anger, frustration, melancholy and guilt, have all been a very real part of your experience.  The person you married has transformed into someone you no longer recognize.  Whether you've tolerated a vague dismissal of your life or actual verbal or physical aggression, it's just not what you were expecting when you said your I do's.  Truly, the effects of addiction can bring out a range of behaviors in your loved one, including:
Defensiveness:  Your spouse treats you like you're unreasonable, nagging, no fun, unnecessarily worried—you name it.  Instead of dealing with the issue at hand, your spouse is busy plastering unfavorable labels on you.
Dishonesty:  You feel lied to, manipulated, and lacking control because your spouse has excuses and stories to explain everything, and they just don't add up.
Intimidation:  When things really get hot, your spouse resorts to intimidation and aggression.  Sometimes it's verbal; other times it escalates to physical violence.
Withholding:  You find yourself feeling more and more isolated as your spouse withholds love and care.
Unpredictability:  You notice personality changes, and never know if you'll be seeing someone who's nearly euphoric, or someone who's outraged and dark.
The Dominoes Fall 
Your marriage has been in trouble for a while, but you've managed to keep trying.  But with time, the damage is spreading.  You find yourself covering for your spouse with family and friends.  Job performance has been floundering, and it looks like unemployment may be on the near horizon.  Perhaps credit card debt has suddenly accrued, or things of value around the house have come up missing.  Addiction can lead to desperation, and you fear your spouse has come into serious financial distress (which naturally impacts you, as well).  You've lived through plenty of damage, plenty of promises, and now you're tapped out.  Addiction has cost you and your spouse a lot. You no longer believe that conquering it is in the cards, at least not in the foreseeable future.  Every human being deserves support and care as they struggle, but you have nothing left to give. What next?
Moving On 
If you've come to the point that you simply cannot help your spouse or endure the situation any longer, the empathetic and knowledgeable Springfield divorce attorneys at Courtney & Mills, LLC can help.  Contact our office today to schedule a confidential consultation.